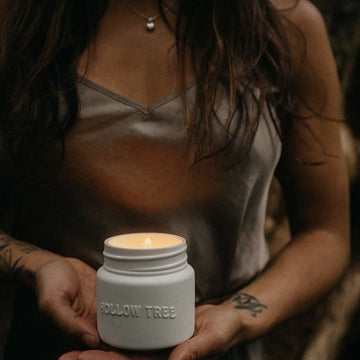 The Forest Is Where Our Passion For Scent Began
Hollow Tree first took root in the remote forests of the Pacific Northwest. Inspired by the majestic forests, our luxurious eco friendly handmade candles are poured in small batches within the costal rainforests of Whistler, British Columbia. 
Hollow Tree is about sharing the love, and the magic of the Pacific West Coast impossible fairy tale forests, with you.
It's a way for us and you to share the stories of ancient trees and astonishing seedlings, whether you've visited the west coast forests yourself of have only experienced them through pictures.
Tree ring by tree ring, Hollow Tree was created out of a love for British Columbia. A love cultivated by decades of exploration, adventure, and a never ending wonderment of the BC forests
MANIFESTO
Let The Forest Be Your Sanctuary
Live Among The Trees
Take Long Walks In Stormy Weather
Forests Are Libraries, Share Their Stories
Treasure The Tree, Honour The Seed
The Art Of Being In Nature Is The Art Of Living
Scents Make Memories, Memories Make Magic
Walk On Forest Floors, Dance Barefoot In The Rain
Love The Wilderness
Remember That A Forest Starts With One Tiny Seed
All Good Things Are Wild And Free
Exploration Is Finding The Thing You Love And Relentlessly Pursuing It
Love Where You Live
Let The Adventure Begin
The Mountains Are Calling
Fragrance Never Forgets
Plant A Tree