HOW TO BURN
Our handcrafted candles feature top-notch cotton wicks, exclusive eco-friendly white coconut wax, and distinct fragrance and essential oil blends sourced from Grasse, France—the heartland of aromatic essences. Here's how to burn them safely and effectively.
Safety
guidelines
Monitor lit candles closely.
Place away from drafts and vulnerable surfaces like glass, wood, or marble.
Do not move or leave a burning candle unattended.
Use on a stable surface, away from forest areas.
Extinguish before leaving a space or room.
Keep away from flammable items and wildlife.
Keep out of reach from pets and children.
Burn for no more than 4 hours. Trim the wick to 1/4 inch before each use.
Prioritize safety, especially under the Pacific Northwest stars.
Ensure the candle is on a non-flammable surface.
Optimal
Burning Tips
Our eco-friendly coconut wax doesn't get as hot as paraffin or soy. Only trim the wick if it exceeds 1/4 inch or has a mushroom top to avoid potential breakage.
For best results, ensure the melt pool covers almost the entire candle surface or reaches the vessel edges during each burn.
Keep the melt pool free of debris.
VESSLE SPECIFIC
GUIDELINES
Ceramic Jars:
Restrict burning to a maximum of 4 hours.
Discontinue use when wax depth is less than 1 cm (3/8th inch) to prevent the jar's base from overheating.

Travel Tins:
Limit burn time to 2 hours.
Stop usage when wax depth drops below 1/2 cm, as the tin's bottom can get exceedingly hot.
CANDLE ANATOMY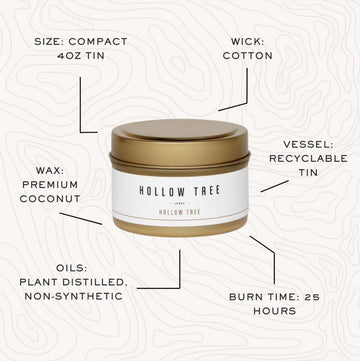 OUR PROMISE
Hollow Tree Candle Co. is dedicated to capturing the Pacific Northwest's beauty through sustainable coconut wax candles handcrafted in Whistler with fragrances from Grasse, France, using sustainable packaging and prioritizing environmental stewardship in every facet of our ethos.